Running Rewired: Reinvent Your Run for Stability, Strength, and Speed (Paperback)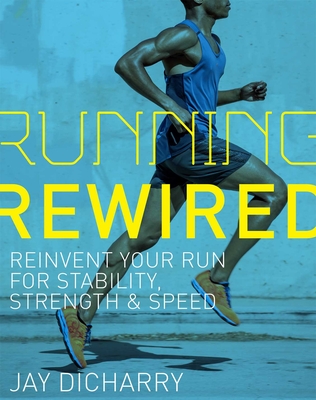 $24.95

Special Order - Arrival Times Vary
Description
---
In Running Rewired, America's leading endurance sports physical therapist and coach shares a program for runners to become stronger, faster, and more durable. Jay Dicharry distills cutting-edge biomechanical research into 15 workouts any runner can slot into their training program to begin seeing real results in about 6 weeks.
For better or worse, your body drives your running form.
Running Rewired
will show you how to shed old injuries, mobility problems, weaknesses and imbalances and rewire your body-brain movement patterns. You'll rebuild your movement and transform your running within one season.
Through his work with athletes at REP Lab and top university sports performance clinics, Dicharry has found that strength training alone is inadequate for runners. To develop the four essential movement skills required for faster, safer running, runners must practice better movement as they build strength. In
Running Rewired
, you'll use
11 self-tests for joint mobility, posture stability, rotation, and alignment
83 exercises to fix blocks, move with precision, build strength, and improve power
15 rewire workouts to amplify any training plan from 5K to ultramarathon
Dicharry's
Running Rewired
combines the best of real-world coaching and a physical therapy approach to strength and mobility for better running. You'll find your personal best running form and become a faster, more durable runner.
About the Author
---
Jay Dicharry is one of America's leading physical therapists and a board-certified Sports Clinical Specialist. Dicharry's REP Lab is a national destination for elite athletes because he diagnoses and rebuilds injured endurance athletes. Jay established his reputation as an expert in biomechanical analysis as Director of the University of Virginia's SPEED Clinic. Through this innovative venture, Jay was able to blend the fields of clinical practice and engineering to better understand and eliminate the cause of overuse injuries in endurance athletes. His unique approach works outside of the traditional model of therapy to correct imbalances before they affect performance.

He is author of Anatomy for Runners and a regular contributor to numerous magazines and professional journals. He has been interviewed or featured in the New York Times, WIRED, ESPN, The Atlantic, Runner's World, Competitor, Running Times, Men's Health, Men's Fitness, Military Times, Reader's Digest, and others.

Jay regularly consults for numerous footwear companies, the US Air Force, and USA Track and Field. Jay is a certified coach through USA Track and Field, USA Cycling, and a certified Golf Fitness Instructor through Titleist Performance Institute. He has competed nationally in swimming, triathlon, cycling, and running and has coached athletes from local standouts to national medalists.
Praise For…
---
Praise for Jay Dicharry

"Jay Dicharry integrates the science of how the body moves with his extensive knowledge of runners and their problems to present an in-depth guide to understanding and improving your mechanics, complete with numerous specific and unique exercises which will make you a better runner."
— Jonathan Beverly, author of Run Strong, Stay Hungry and Your Best Stride

"Jay Dicharry is one of the country's foremost experts when it comes to understanding how to properly build strength and improve efficiency for runners. Running Rewired is a definitive handbook to a stronger, fitter, faster you!"
— Brian Metzler, Editor, MotivRunning.com, Founding Editor, Trail Runner, and coauthor, Run Like a Champion

"Jay is, simply put, the best. His program prepared me for success in my training for the Rio Olympics. I was able to come back from an injury in early 2015, to train at a greater consistency and intensity than ever before. I attribute that comeback, my ability to transition smoothly to running, and then sustain the hardest training of my life, to work with Jay."
— Kate Grace, Olympic middle-distance runner

"I would not have been able to reach peak performance in 2016 Olympic Trials and Olympics had it not been for the foundational work with Jay. Period. I cannot overstate the impact Jay has had on my running career."
— Kate Grace, Olympic middle-distance runner

"I have had the opportunity to work closely with Jay Dicharry since 2013. We first met as I was recovering from a lower leg stress fracture. With Jay's detailed guidance, enthusiasm for strength training, and methodical plan I was able to go from unable to run to setting a course marathon PR at the Ironman World Championships in 2013. Since that time Jay has helped me succeed in all areas of my triathlon training. I have had the opportunity to closely follow Jays strength program that has been tailored to the different parts of my training cycle. The things I enjoy most about Jay's strength program are that it is applicable to swim, bike, run, it is easy to follow, it allows for progression as I improve and it's time efficient."
— Linsey Corbin, professional triathlete and 5-time Ironman Champion

Praise for Anatomy for Runners by Jay Dicharry

"This is the best resource on running biomechanics and injury prevention. The corrective exercises have become part of my training routine, improved my performance, and reduced my injuries."
— Alan Webb, American record holder in the mile (3:46.91)

"The biggest challenge running coaches encounter is discovering the balance between maximizing workload while holding off injuries. Jay Dicharry presents years of knowledge and useful practical information in a format that's understandable. I am certain Anatomy for Runners is spot-on, because Jay has helped several of my athletes both remain healthy and get back to championship form."
— Jason Vigilante, renowned running coach

"Running is a simple sport, right? But why does almost everyone get hurt? As Jay discovers in this valuable guide, the reason is an amazingly complex mix of anatomy, strength, forces, vectors, and footwear effects. Alas, after reading this book and feeling what running really is, you will rediscover and understand its simplicity . . . then you can throw the rest of the library away."
— Dr. Mark Cucuzzella, physician, National Masters runner