Pure Grit: Stories of Remarkable People Living with Physical Disability (Paperback)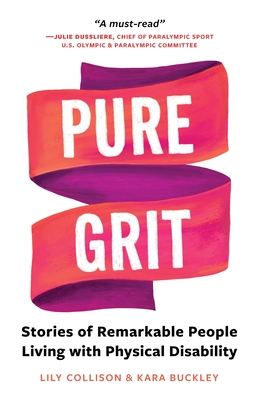 $15.00

At Distributor - We Can Usually Get It in 3-8 Days!
Description
---
"A must-read"
--Julie Dussliere, Chief of Paralympic Sport, U.S. Olympic & Paralympic Committee
Nineteen people from across the globe, ranging in age from twenty to seventy-plus, tell their stories of living and thriving in diverse fields -- in sport, the arts, medicine, business and more. With refreshing frankness, they share their successes along with their struggles -- grit is the one characteristic they all have in common. These are not stories of people overcoming disability -- they're stories of people accommodating disability while pursuing their dreams. Pure Grit shines a light on boundless possibility whatever the individual challenge.
"Pure Grit highlights the lived experience of remarkable individuals, who collectively demonstrate that growing up with a disability brings strength, perspective, and resilience."
--Dr. Cheri Blauwet, Assistant Professor of PM&R, Harvard Medical School
"An insightful collection of stories."
--Dr. Christine Imms, Apex Australia Chair of Neurodevelopment and Disability, University of Melbourne
"The stories in Pure Grit are a testament to human achievement no matter your ability. An extraordinary read."
--Casey Wasserman, Chairperson, Los Angeles 2028 Olympic and Paralympic Games