Instant Vortex Air Fryer Cookbook: Amazingly Easy Air Fryer Recipes Any One Can Cook (Paperback)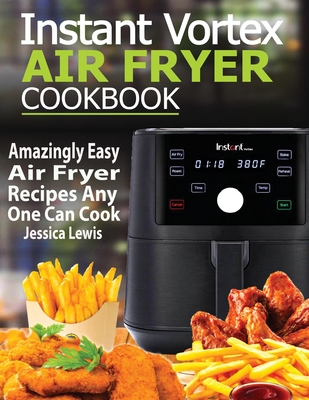 $15.59

At Distributor - We Can Usually Get It in 3-8 Days!
Description
---
Enjoy Fresh and Foolproof Instant Vortex Air Fryer Recipes
Do you own Instant Vortex Air Fryer and wants to make the best air fryer recipes? Do you want to improve your culinary skills to impress your family, friends and guest with delicious air fryer recipes?
Well, sure you would
With the "Instant Vortex Air Fryer Cookbook" as your guide, you'll make the best fried foods without breaking a sweat. As a fried favorite, you'll maximize the full potentials of your air fryer to cook tasty and delicious recipes The Air Fryer serves as a healthy, yet delicious alternative to cooking your favorite fried foods and dishes.
The Instant Vortex Air Fryer Cookbook will teach you everything you need to know about the air fryer like:
Meaning of Instant Vortex Plus Air Fryer?
How Instant Vortex Plus Air Fryer Works?
Features of Instant Vortex
Benefits of Using Vortex Air Fryer
Cleaning & Maintenance
Troubleshooting Tips
It offers plenty of content in the following categories:
Breakfast & Brunch
Poultry
Beef & Pork
Vegan & Vegetables
Fish & Seafood
Snacks & Appetizers
Desserts
The Instant Vortex Air Fryer Cookbook will take care of your scarce cooking time and expose you to more easy and tasty ways of living a healthier lifestyle.
Use this cookbook to make EVERY meal, ANY day of the week
Get a copy of this great Instant Vortex Air Fryer Cookbook and enjoy your life once and for all. Grab Your Copy Now