Mental Toughness for Beginners: Develop a Growth Mindset, Achieve an Unbeatable Mentality, Train Your Brain to Increase Self-Esteem and Self-Disciplin (Hardcover)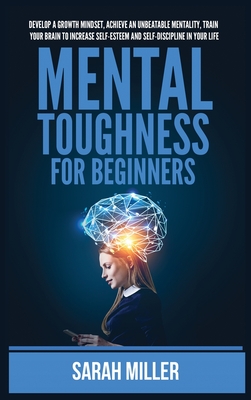 $29.99

At Distributor - We Can Usually Get It in 3-8 Days!
Description
---
Have you ever thought to yourself, "I need to toughen up"? Have you been dealing with stress and trauma in an unhealthy way, and you're just not sure how to break the cycle? Do you sometimes feel like others would like and respect you better if you could like and respect yourself a bit more?
If you're stuck in a negative rut, can't see your way out, and want to learn how to live a happier, more purposeful life while kicking stress to the curb, then Mental Toughness for Beginners is the book for you...
In this book you'll learn:
What willpower is and the most common myths surrounding it
What self-discipline is and how it can benefit your life
How to tell the difference between a vision versus a goal
What mental toughness is and what it means to be mentally tough
How to figure out who you really are and how to make sure you know your true beliefs and values
The best ways to build up personal resilience
How to strengthen your support system to improve your life
What procrastination is and the best way to overcome it
The best ways to build up good habits
The best ways to improve your self-discipline
And so much more
This book will help you understand that treating a problem in your life requires you to first identify the problem. Then you must begin to understand the deeper reasons behind the problem. This book will help you identify the reasons that you may be struggling, and teach you how to deal with this problem and the other problems that come along with it...
This book provides helpful insight into setting emotional boundaries, forgiveness, and acceptance, and also teaches how to move forward and move on in life. Each chapter is broken down into easy-to-digest segments that can be read and reread as a primer and a guidebook...
If you really want to see an improvement in your life and become a stronger version of yourself, then don't wait any longer. You can learn to handle stress and anxiety, live a mindful and purposeful life, and discover the secret to breaking the cycle of negativity in your life, for good Get this book and start your journey today
Grab your copy of Mental Toughness for Beginners now