3D Printing 101: The Ultimate Beginner's Guide (Paperback)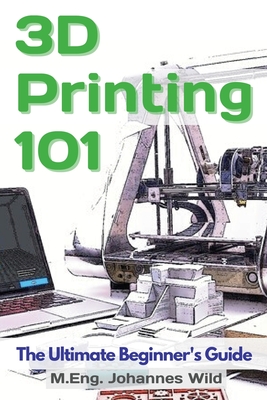 $14.99

At Distributor - We Can Usually Get It in 3-8 Days!
Description
---
With this 3D printing book, you can develop a solid basic knowledge on the topic of FDM 3D printing and learn step by step everything you need to know to prepare and 3D print objects. The author of the book is an enthusiastic 3D printing user and engineer (M.Eng.) and will guide you professionally from the basics to advanced settings.
After a short introduction to the basic concepts of 3D printing and a guide to buying a 3D printer, both the use of a 3D printer and the required software (free software) are explained in a very hands-on way. The free slicing program Cura is used as the slicing software and its use is explained in detail. Numerous illustrations support the explanations of the book and thus create a clear and simple introduction to the topic of 3D printing. The entire process from the 3D model file to the finished printed object is explained using sample models (downloadable for free).
Take a look inside and get your copy
Even if you don't own or do not plan to buy a 3D printer, you can still gain valuable knowledge about this fascinating technology with the contents of the book. This book will also provide you with information on how to use a 3D printing service provider or a so-called makerspace.
The contents of the book in brief:
1) Possibilities of 3D printing
2) Advice on buying a 3D printer and alternatives
3) The first 3D print
4) Introduction to the software needed for 3D printing
5) Advanced 3D printing and advanced settings
6) Step-by-step slicing and printing examples
7) Materials and Accessories
8) Troubleshooting and maintenance
9) Preview: 3D Scanning
The book is intended for anyone interested in 3D printing, whether to learn about the technology or to create 3D prints. All steps are explained in detail and are presented in an easy-to-understand way. This handy book is ideal for tinkerers, inventors, engineers, architects, artists, students, young people and 3D printing users. The content of the book is reduced to the essentials. On about 60 pages, all the important information for beginners is provided.
Take a look inside and get your copy