The Complete Ninja Air Fryer Cookbook 2021: 1000-Day Simple, Tasty and Easy Air Fried Recipes for Smart People on A Budget- Bake, Grill, Fry and Roast (Paperback)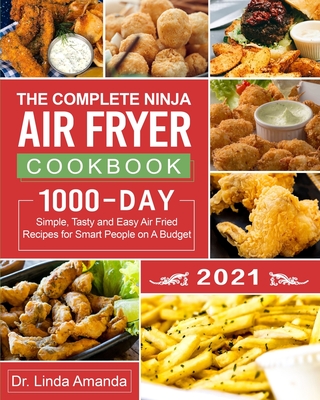 $14.99

Special Order - Arrival Times Vary
Description
---
Ninja Air Fryer is a cutting-edge tool that allows you to continue to enjoy eating "fried" foods without suffering the negative health consequences such as increased cholesterol, elevated blood pressure and increased risk of developing cardiovascular diseases.
In this book, I will give you all the details on how this amazing machine works, where you can get it and how you can use it.
Meantime, this book is jam-packed with 100 satisfying recipes to delight your taste buds and keep your body healthy and slim. These recipes include main dishes, side dishes, snacks, desserts and more. The book even includes vegan-friendly and vegetarian-friendly recipes along with a 4-week meal plan and a shopping list to make your life easier.
It is time to say goodbye to oil-laden foods that fill your body with unhealthy calories and body fat and say hello to "fried" foods that are crisp, delicious and good for your waistline.
Don't be hesitated now Click the BUY NOW button to find out more useful information. Wish you a healthy and happy life