Polish And Italian Cookbook: 2 Books In 1: Over 150 Recipes For Preparing At Home Traditional Food From Poland And Italy (Paperback)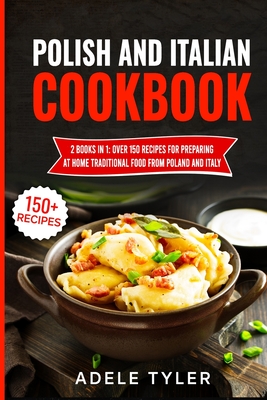 $19.99

At Distributor - We Can Usually Get It in 3-8 Days!
Description
---
Are you looking for a complete Polish And Italian cookbook?In this 2 books in 1 by Adele Tyler you will learn how to prepare over 150 recipes with traditional dishes from Poland and Italy
In the first book, Polish Cookbook, you will discover 77 recipes for traditional Polish food.
Located in between the Central Europe and the Nordic Countries, Poland is land rich of history that lived in depth every major turnaround in the European scene across the centuries.
As it happens for every country with such history - another notable example would be Italy - also the culinary landscape is rich of contamination and in many Polish dishes is clear the touch given by one cuisine or another.
The Polish cuisine is rich and high in calories, similar to Nordic Countries and Russia, given the extreme temperature that can be reached during winter. Summer, though, is warm enough in a perfect Central European style, allowing to add into the menu several fresh dishes, vegetables and cucumbers.
The most famous dish is surely Pierogi, the Polish dumplings well known worldwide, but from chicken soups to cabbage rolls, pancakes and delicious cookies, the traditional recipes from Poland will not disappoint you.
In Polish Cookbook by Adele Tyler Blanc you will learn:
70 recipes for preparing at home tradition Polish recipes
70 recipes easy to make with ingredients that can be found in the local supermarkets
History and traditions of polish cuisine
If you want to explore a new way of cooking coming directly from Europe, this cookbook is for you.
In the second book, Italian Cookbook by Adele Tyler, you will learn how to prepare traditional Italian dishes at home.
There are few doubts about which one is the oldest cuisine of the western world. Italian cooking tradition has its roots deep in the course of history. From Etruscan culture to the Ancient Greek's influence, the Romans started to treat cooking as an art in their early stages of development. For Italian people, food is more than fuel. Food is life. Food is social gathering. Food is family time. Food is love.
Fast forwarding to our days, Italian food is globally appreciated and little Italian restaurants are at every corner from San Francisco to Bangkok. Someone might state that the real pizza can be found only in Naples, the real Risotto alla Milanese only in Milan and the most authentic Fiorentina Steak can be tasted only in Florence. Despite it might be true, traditional recipes from all over Italy can be easily cooked at home. The secret of the historic dishes from north to south of Italy relies in the quality of the ingredients and most of them can be found at the local supermarket.
In Italian Home Cooking by Adele Tyler you will learn:
How to prepare over 80 traditional and modern Italian recipes
Italian recipes from Norther, Centre and Southern Italy
Mediterranean Diet recipes of healthy eating and lifestyle
Spaghetti, Veal, Fiorentina Steak, Risotto, Pizza and more tasty recipes from Italy
This Italian Cookbook is the one you are looking for if you want to impress family and friends with traditional, simple and tasty recipes chosen among the Italian's most iconic dishes.
Scroll up, click on buy it now and get your copy today.